---
"well worth investigating"
TOM CUNLIFFE
The Complete Ocean Skipper
"I'm impressed… the vane performed well on all points of sail, including downwind… the servo pendulum system took control to the extent that it could sail a course with the sails badly set"
DAVID PUGH
Editor, Practical Boat Owner
Build your own servo-pendulum wind vane from a kit
The Hebridean wind vane is an innovative version of the tried and tested servo-pendulum self steering system for sailing boats steered by tiller or wheel. The Hebridean has crossed Atlantic and Pacific oceans but is also quick and easy to mount for weekend coastal sailing or jaunts across the Channel, Minch or other strait/sea.
Stern freeboard
The kit fits yachts with stern freeboards from 600-1000mm (stationary). It is designed specifically for DIY construction. The Hebridean can be tilted up out of the water or lifted off the stern and stored on the guard wires. Or partially dismantled for storage below.
Horizontal vane axle
The Hebridean is the only serv0-pendulum vane with an actual horizontal vane axle. One of its unique design features allowing boosted performance, simplified construction and enhanced efficiency in all conditions. John Fleming's analytical genius was responsible for the innovative geometry on which this landmark development in servo-pendulum windvane design depends.
Simplicity
For confidence at sea or in remote locations, the simplicity of its components and assembly crucially allows the unit to be maintained with tools usually found onboard. Building the Hebridean yourself is a hands-on "course" providing you not only with a good understanding of its workings, but also substantial confidence in your ability to maintain it anywhere.
Wood
When sourcing your own wood you need 4m of suitable hardwood at 145 x 20mm (EU standard). The longest plank is 1800mm to make the pendulum/paddle for 1000mm height transoms. Here is the wood cutting plan.
Affordable
The Hebridean offers DIY sailors the opportunity to build an affordable wind vane in wood and stainless steel, with no welding, bearings or plastic cogs in the main H2 Kit. (there is one worm and wheel in the optional Remote Course Adjustment Kit which can be viewed in action in this youtube video). All the metal components are prefabricated (drilling and some surface finishing required) ready for you to bolt to the wooden frame. The build requires basic wood-work skills and tools. And several days of absorbing and highly rewarding work.
Wheel steering too
A "drum" kit for connecting the Hebridean to wheel steering is available.
Shipping
For shipping costs, please contact me at the email address below with your full name, delivery address and phone number (required by carrier) for a quotation.
Kit prices
Prices are listed on our Prices & Ordering page.
A section by section video from Hebridean builder, Ian French
Thank you Ian!
See the Hebridean in action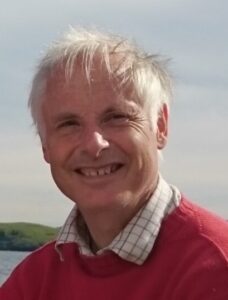 John Fleming  1951 – 2023
teacher   yachtsman   inventor   thinker 
"We're going…that way!"
Here is a 10 minute video tribute to the Hebridean's designer, John Fleming. It was aired at his life celebration in The Tipi at his family home, The Dell, Nethy Bridge, 19 April 2023. https://www.sgmarkphotography.com/Client-Area/John-Fleming 
Use password sleepyeagle (the name of John's Pioneer 10).
Notice from Ian Kirkwood
When John's health got worse, he asked me again to take on the project. My name is Ian Kirkwood, an enthusiastic fan of his highly ingenious version of the servo-pendulum self steering-system. I sailed in company with John on and off for a decade — using my own Hebridean (I was his first customer in 2013-14).
Our Hebrideans steered us around Scotland's northwest coast and isles. We made three trips in company to the Faroe Islands. On the first of these I sailed happily solo. All thanks to the Hebridean. Dying winds foiled an attempt to reach Iceland: our boats lay calmly hove-to overnight a few miles off the Butt of Lewis. Plan B proved to be a fabulous voyage down the length of the Atlantic coast of the Outer Hebrides. A highlight was anchoring off Callanish in blazing sun.
I hope to continue John's personal style of service. Please allow a generous lead time as I get used to stocking the components and preparing Hebridean kits while maintaining their high quality.